Method To Marry- get some creative ideas – read in !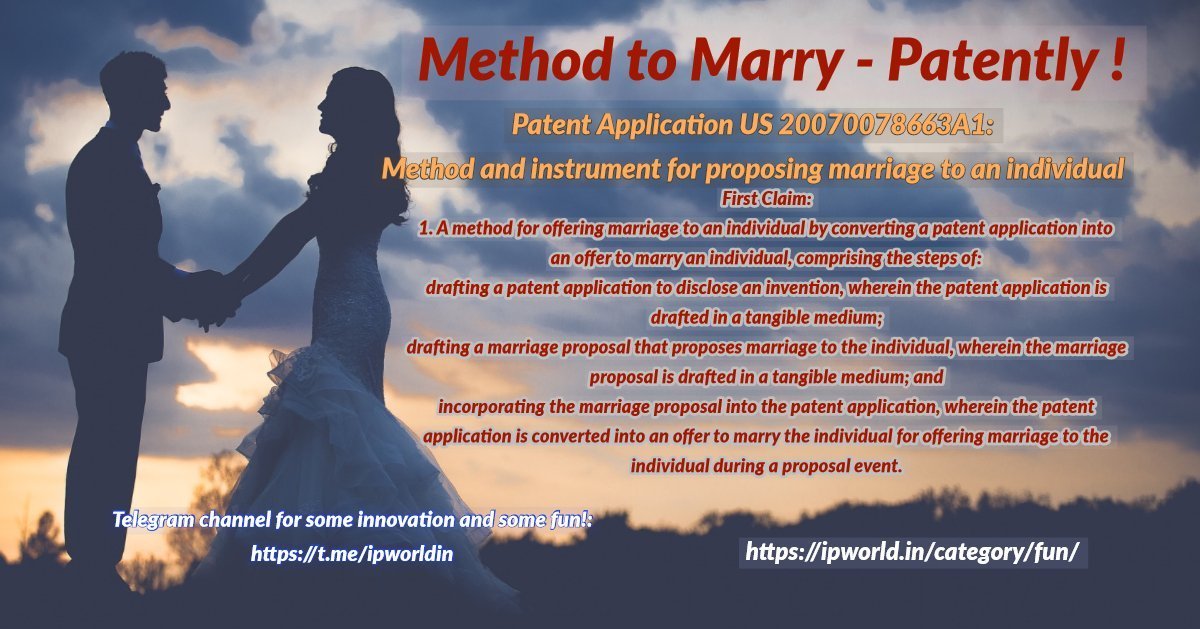 Method to Marry-Patently- find some creative ideas on marriage here !
Here a patent application on a method to marry. Inventors- and their attorneys- are humans too. And just like everyone else, have fun occasionally, sometimes in their own unique manner.
As set out in image above, an application has been filed for a method to marry. No need to panic yet, since no patent granted on it ! So you can seek inspiration from it for your own/ near one's marriage !..quite some interesting ideas there !
Find it at :
https://patents.google.com/patent/US20070078663A1/en
Really a fun application to read. Here the Abstract, for example:
The purpose of this invention is to provide an improved method of proposing marriage to an individual. The method of proposing to an individual generally comprising the steps of meeting the individual; exchanging names with the individual; dating the individual (not necessary); drafting a government document having a proposal to marry the individual incorporated therein; and showing the government document to the individual. The government document may be a patent application. The patent application may claim the method by which the proposor will make a marriage proposal to the individual. The proposor could then use the method claimed in the patent application to propose to the individual. The patent application could be the actual marriage proposal.
BTW, most marriages are 'patented', aren't they ? With exclusive mutual rights and responsibilities rights till death does the partners apart !!
If you come across any such fun patent related matter, comment in and I will put it up by the by- if you leave your name/link, will give you attribution too. Thanks !
Join my Telegram channel for IP infotainment bytes !:
https://t.me/ipworldin
Please see the page as under to contact us regarding this Website as well as for any of your Intellectual Property related queries such as pertaining to Patents, Trademarks, Copyrights, Industrial Designs etc . Thank you.
https://ipworld.in/contact-me/