What is a Trademark – here a simple explanation !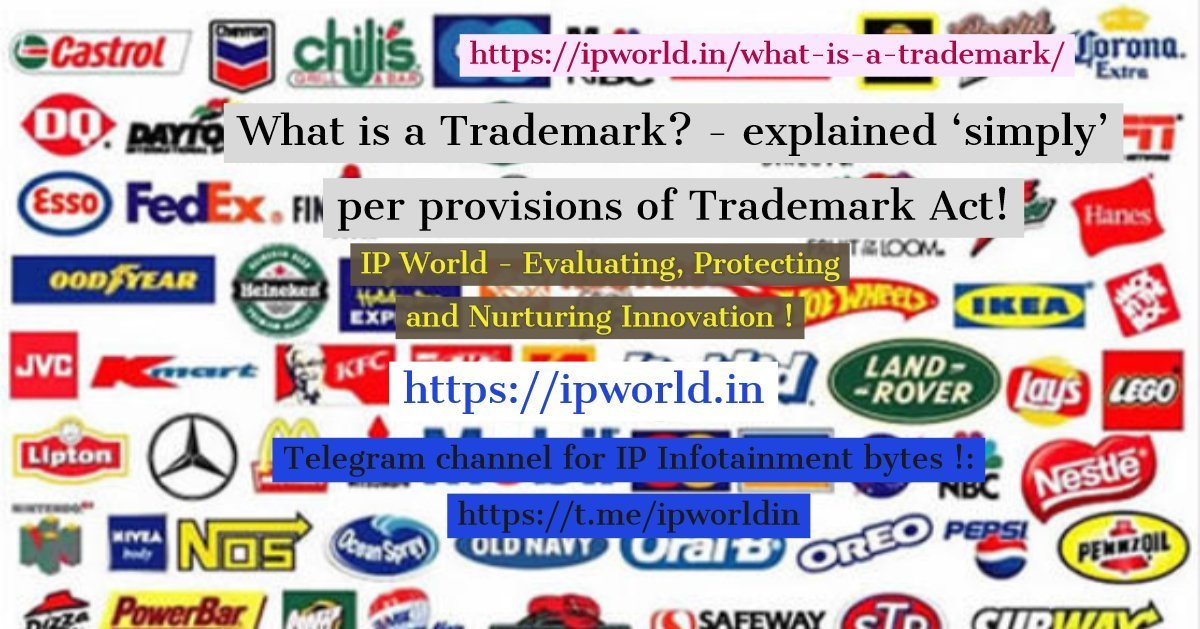 What is a trademark?
What is common amongst : Google, Walmart, Vodafone, Rolex, Kodak, Victoria Secret, Color Purple used in Cadbury's packaging, lightening bolt celebration pose of sprinter Usain Bolt, the smell of strong bitter beer on Unicorn's darts, and Tarzan's yell ?
All of these are – or have been- Trademarks…serving to indicate the very wide variety of Trademarks that exist all around us !
A trademark ( and its development and protection ) is amongst one of the first and continuous business activity any commercial entity – whether a startup or decades old – needs to perform. Hence it is very important for all to know about trademarks. Read on for the same !
A trademark is a type of intellectual property primary purpose of which is to identify and distinguish products / services of a source from those of others. Trademarks used for services are also termed as service marks. The intent is to enable a buyer/consumer of the product /service understand and achieve this distinction without resorting to sophisticated / complicated means.
Any legal entity – such as an individual or a business can own a trademark. As can be understood, to serve as a means of identification and distinction it needs to be made available at any place such a distinction is required. Thus, a trademark can be located on a package, a label, a voucher, any marketing communication pertaining to the product or service, and on the product itself. It can even serve as corporate identity, and is often found displayed on corporate buildings. A trademark can include a device, brand, heading, label, ticket, name, signature, word, letter, numeral, shape of goods, packaging or combination of colors or any such combinations.
The first known act concerning trademarks perhaps dates to 1266 when Henry III required all bakers to identify their respective breads by distinctive signs. The Trade Marks Act 1938 of United Kingdom permitted registration based on an 'intent to use' principle, created an examination based process and created an application publication system.
A Trademark can be "Registered" or not. A registered trademark carries a symbol ® after it, serving to provide notice that the preceding word or symbol is a trademark or service mark that has been registered with a national trademark office. A trademark may also be established by use and may not always be registered. Trademarks not officially registered can instead be marked with the trademark symbol ™, while unregistered service marks are marked with the service mark symbol ℠. The proper manner to display these symbols is immediately following the mark; the symbol is commonly in superscript style, but that is not legally required.
The R symbol must only be used in the case of registered trademarks and by the owner or licensee. It also must only be used in the regions in which its owner has a valid trademark registration.
Whether a trademark is registered or not depends upon several factors. Many countries allow for usage of an unregistered trademark when it gets protection under 'common law' use. However, this protection is lesser than that granted to a registered trademark.
In some cases, a trademark may not be initially registerable. But its consistent use may lead it to acquire a distinctiveness that may, in turn, aid in getting it registered.
Use of the TM symbol in the case of unregistered marks can also signify to the public at large (and potential infringers) that the owner is considering the legalities of protecting his brand. This may, in some cases, act as a deterrent to infringement. It should also be borne in mind, that in the creation of a trademark / brand, one is creating an intangible but material asset. For potential investors, this can be a critical factor in the decision making process. While an unregistered brand name may have some value, it is not comparable with the asset potential of a registered brand.
Marketing campaigns of any product/service aim to associate the unique features of the product/service – including its quality and/or suitability of specific uses with corresponding trademark. This enables a consumer use a trademarked product /service with confidence that it has the features / quality as put forward in various marketing communications of the product.
In India Trademarks Act 1999 carries the relevant provisions, and is compliant with TRIPS. The Act envisages unregistered trademarks as well, which are governed by the common law rules based on the principles evolved out of the judgments of the Courts.
Section 2 (zb) of the Trade Marks Act, 1999 defines a Trademark as , "trade mark means a mark capable of being represented graphically and which is capable of distinguishing the goods or services of one person from those of others and may include shape of goods, their packaging and combination of colours."
Purpose of Trademarks
Trademarks grant their owners exclusive right to use them to identify their goods and services , or authorize others to user them ( usually in return for payment ). The period of protection varies per jurisdiction (in India it is 10 years ), but such protection can be extended indefinitely upon payment of renewal fees. Lowenbrau claims to have the oldest continuously used trademark in the world, in use since 1383.
Trademarks serve to reward their owners who exert hard to establish the products that carry the trademarks. As such, a trademark is one of the most valuable marketing tool for a business and is usually fiercely protected. Legislative protection granted to trademarks hinders efforts of 'counterfeiters' who use similar signs to market their inferior products / services, thereby trying to capitalize upon marketing efforts made by the 'genuine' trademark owners , as well as serving to destroy the reputation of such genuine products in the market place.
What kinds of trademarks can be registered?
Essentially, anything distinctive has the potential of being used as a Trademark. Hence, a trademark may be one or a combination of words, letters and numerals. It may comprise drawings, symbols, three dimensional signs, and even shape and packaging of goods. Some jurisdictions allow other features such as holograms, motion, color and non-visible signs (sound, smell or taste) etc. also to be used.
Other categories of Trademarks
While primarily trademarks identify commercial source of  goods or services, several other trademark categories also exist. For instance , collective marks are owned by an association  whose members use them to indicate products with a certain  level of quality and who agree to adhere to specific requirements set by the association. Such associations might represent, for example, accountants, engineers or architects.
Likewise, Certification Marks indicate compliance to defined/ established standards, and can be granted to any one  who can demonstrate its products meet those established standards. Some examples of recognized certification are the internationally accepted "ISO 9000" quality standards and green labels/ Ecolabels for products with reduced environmental impact.
Yet another category is Geographical Indication (GI). GI, as the name indicates, points towards the location of the product ( or group of products having same location ) and becomes an important factor when the location itself is indicative of a useful product attribute that may lead to a marketing advantage in the minds of the buyers / consumers. For instance 'basmati' rice is geographically exclusive to select districts of India and Pakistan and is a is a variety of long, slender-grained aromatic rice grown in such districts only. Similarly for Bordeaux wine and Champagne wines. Since there may be many producers, for example, of wine in Champagne district of France they all can rightfully lay claim to be called Champagne wine, while wines of other districts may not be so labelled.
How extensive is trademark protection?
Almost all countries in the world register and protect trademarks. Each national or regional office maintains a Register of Trademarks containing full application information on all registrations and renewals, which facilitates examination, search and potential opposition by third parties. The effects of the registration are, however, limited to the country (or, in the case of regional registration, countries) concerned.
To avoid the need to register separate applications with each national or regional office, WIPO ( World Intellectual Property Organization ) administers an international registration system for trademarks. The system is governed by two treaties: the Madrid Agreement Concerning the International Registration of Marks and the Madrid Protocol. Persons with a link (be it through nationality, domicile or establishment) to a country party to one or both of these treaties may, on the basis of a registration or application with the trademark office of that country (or related region), obtain an international registration having effect in some or all of the other countries of the Madrid Union.
I hope above serves a preliminary introduction to the fascinating world of Trademarks. In other posts I will elaborate on various other aspects. Comments /Questions ? – please feel free to add in !
Join my Telegram channel for IP infotainment bytes !:
https://t.me/ipworldin
Please see the page as under to contact us regarding this Website as well as for any of your Intellectual Property related queries such as pertaining to Patents, Trademarks, Copyrights, Industrial Designs etc . Thank you.
https://ipworld.in/contact-me/