Why Startups Fail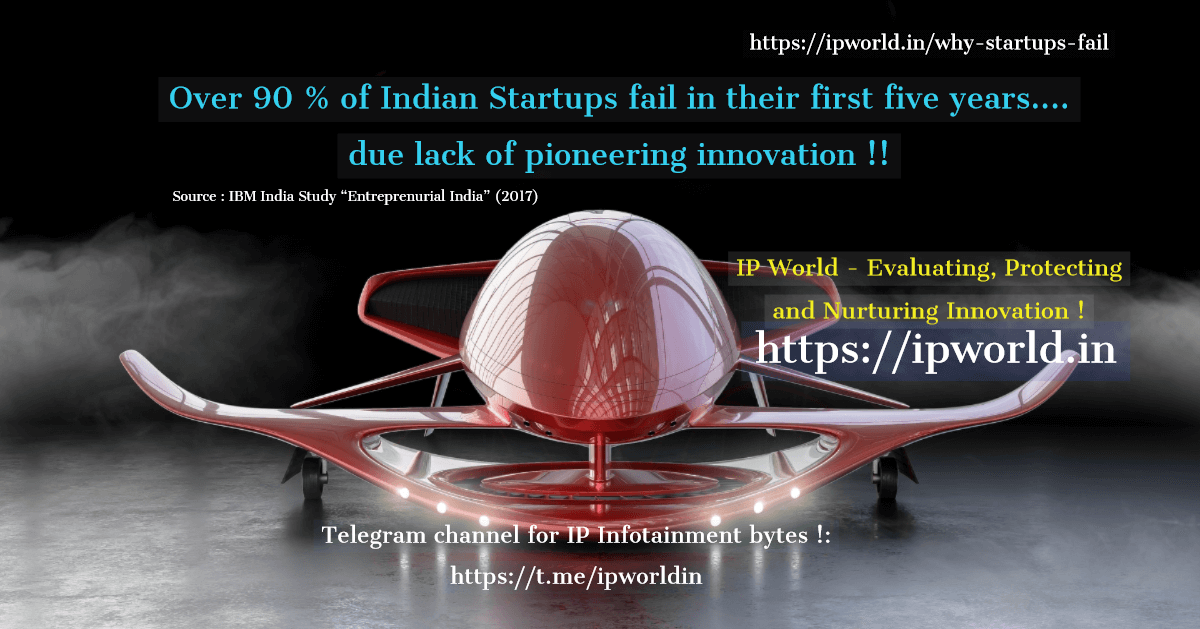 Over 90 % of Indian Startups fail in their first five years…. due lack of pioneering innovation !
The Startup India Action Plan was launched on January 2016, its objective being empowering startup growth in India through innovation and design. Very strong initiatives have been continuously taken by Government of India and Indians have, in turn, responded enthusiastically. As of November 2018, 14,036 Startup applications have been recognized as Startups by Department of Industrial Policy and Promotion (DIPP) with more than 1,16,000 queries received and more than 660 Startups facilitated by providing advisory on business plans etc.
Several other efforts have been made . These include:
Amending the definition of Startup itself to include longer gestation periods and scalable business models with high employment potential.
Easier compliance with laws pertaining to labor, pollution etc. based upon self-certification.
Setting up of Startup India hub ( an online platform) to mentor and incubate startups.
Patents facilitation via about 450 facilitators and trademark facilitation via about 700 facilitators. Department of Industrial Policy and Promotion (DIPP) bears major patent related costs on behalf of the Startups with upto 80 % rebate in patent fees and free legal assistance. 50 % rebate is provided in Trademark filing fee to Startups.
Procurement norms of Central Ministries/ Departments relaxed to provide an equal platform to Startups, exemption from Earnest Money Deposits, turnover and prior experience criteria.
Various Tax incentives and exemptions
.A Rs. 10,00 Crore 'Fund of Funds" to support innovation driven startups, being managed by Small Industries Development Bank of India (SIDBI).
Establishment of more than 5000 'Tinkering Labs' in Schools, establishment of incubators under Atal Innovation Mission, scaling up of Established Incubation Centers, setting up research Parks at various IITs, setting up pf a Biotech Seed Fund to promote Startups in the biotechnology domain, setting up of Technology Business Incubators ( TBIs) etc. etc.
However, a study done by IBM Institute for Business Value based on a survey done in collaboration with Oxford Economics identified the following weaknesses in the Startup Ecosystem being developed:
* Lack of innovation: Many Indian startups lack pioneering innovation based on new technologies or unique business models. The study revealed that Indian startups are more prone to emulate already successful global ideas.
* Lack of skilled workforce: Talent acquisition is one of the biggest challenges faced by Indian startups, and limited availability of necessary skills impedes growth. As per a study, 80% of engineering graduates in India are deemed unemployable and 48% of employers in India face difficulty in filling vacancies.
* Lack of sufficient funding: Indian startups face funding roadblocks both at entry and exit stages. Funding is one of the major challenges for these companies.
* Other roadblocks include inadequate formal mentoring, poor business ethics and lack of experienced leadership.

So much so that the study states : " More than 90% startups in India fail in their first 5 years. Lack of pioneering innovation (as stated by 77% of the Venture Capitalists surveyed in the Study) is the topmost reason for the failure of most Indian startups. "
While the efforts of Indian Government as above will perhaps address in time many of the constraints pointed above, I believe that the most fundamental one – INNOVATION– is largely unaddressed. That being the foundation stone, unless that is strongly and suitably addressed, the towers being built thereupon are bound to be weak. There may be bright linings on the horizon, however. Reports say that as of 2018 Indian Companies ( including startups) account for about 60 % of all technology patents filed in US as of 2018. Indian startups filed over 200 patents, mostly in Artificial Intelligence, Cyber Security, IoT and Cloud Computing. Between 2015 and 2018, Indian entities filed over 4,600 patents of which about 40 % of the tech patent applications filed have been granted, and the share of tech patent applications in total filed increased to two-third in 2017-18 from half in 2015.
As is readily evident, any Startup should, as a first step, devote large efforts to establishing the innovativeness of its idea, in case it seeks to become a success story in the its field.
Sources:
– "Indian tech startups pile on the patents", New Indian Express, May 2019
– IBM "Entrepreneurial India" Study, 2017
– Government of India Status Report on Startup India, November 2018
Would love to have the opinions and experiences of Startups and their facilitators on how innovative Indian startups are, with specific examples of patents granted.
PS : For a FREE preliminary evaluation and advise on your innovation and its patentability aspects, contact us via the details provided on Contact Me Page !
Join my Telegram channel for IP infotainment bytes !:
https://t.me/ipworldin